Sharing is caring! The Bird Buddy app allows you to share the experience with friends and family by inviting up to three people into the app via invite codes. Once added, they are able to connect to your Bird Buddy and receive the same postcards you do. You can revoke their access at any time.
You can receive an unlimited number of Bird Buddy invite codes and add them to your Bird Buddy account, which will allow you to get postcards from all of them. The photos you receive from any of the connected feeders will unlock those birds' profiles in your Collections.
Sending an invite code
In order to grant a friend or a family member access to your Bird Buddy postcards, you need to send them one of your three available invite codes. You can find and share the codes in the Settings menu of the feeder you'd like to share.
In the main settings menu of the app, select the Bird Buddy feeder you want to share with someone to access that feeder's settings.

Scroll down to "Manage members".

Tap on any of the free invite codes to bring up the "Add new member" screen.

Now you can share the code by copying it or sending it via Facebook, Twitter, Instagram, and many other options.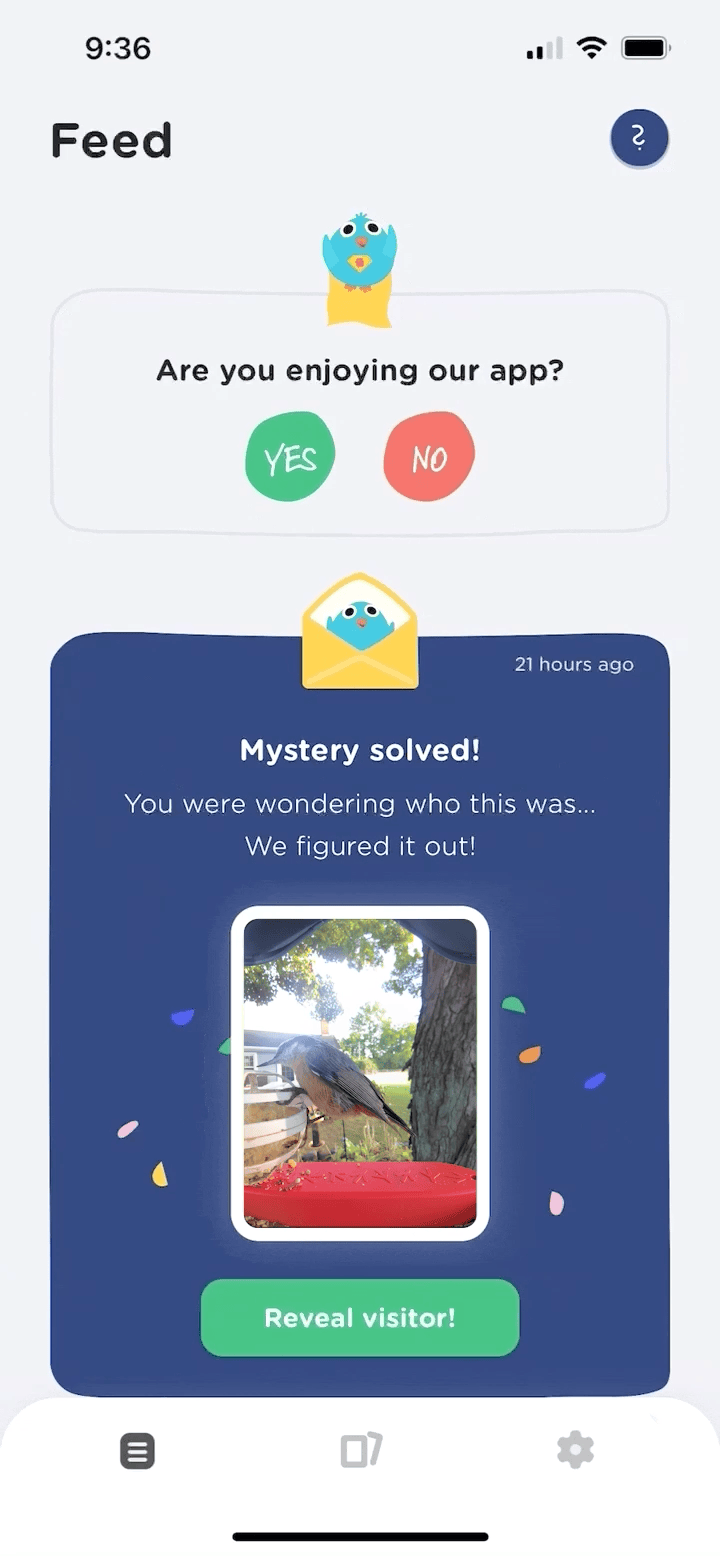 Once the other person claims the code, you will receive a notification, asking you to confirm their membership.

Tap on "Confirm friend".

In case you receive an unexpected member request, simply tap "Doesn't ring a bell". This will deny their request.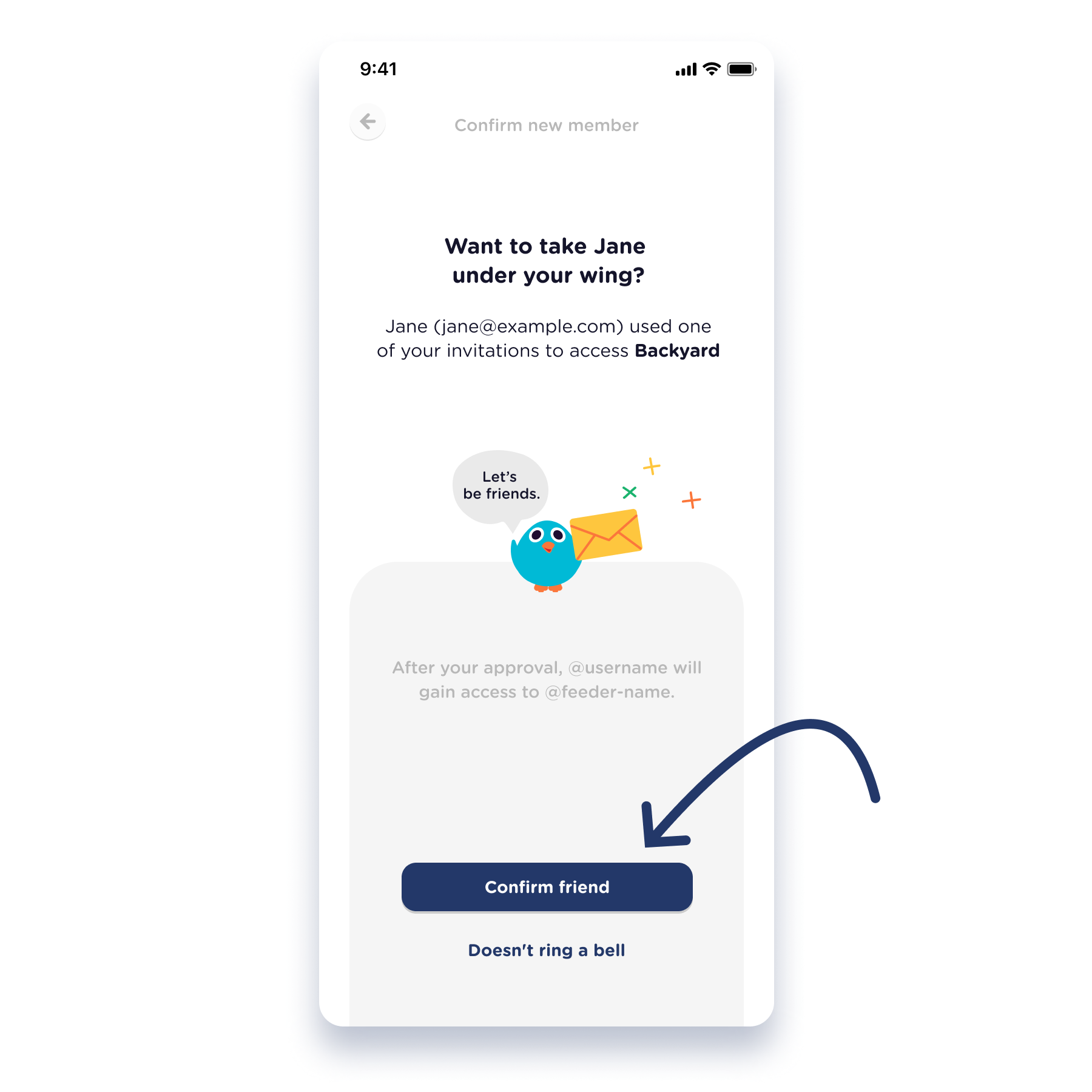 Removing a guest member
To remove a guest member, complete the following steps:
Open the Settings section of the app and click on the feeder's name to access the Feeder Settings.
Navigate to the "Manage Members" section and identify the guest you'd like to revoke access for.
Click on the "X" symbol next to their user name and confirm your decision by clicking on the "Yes, remove them!" button on the pop-up.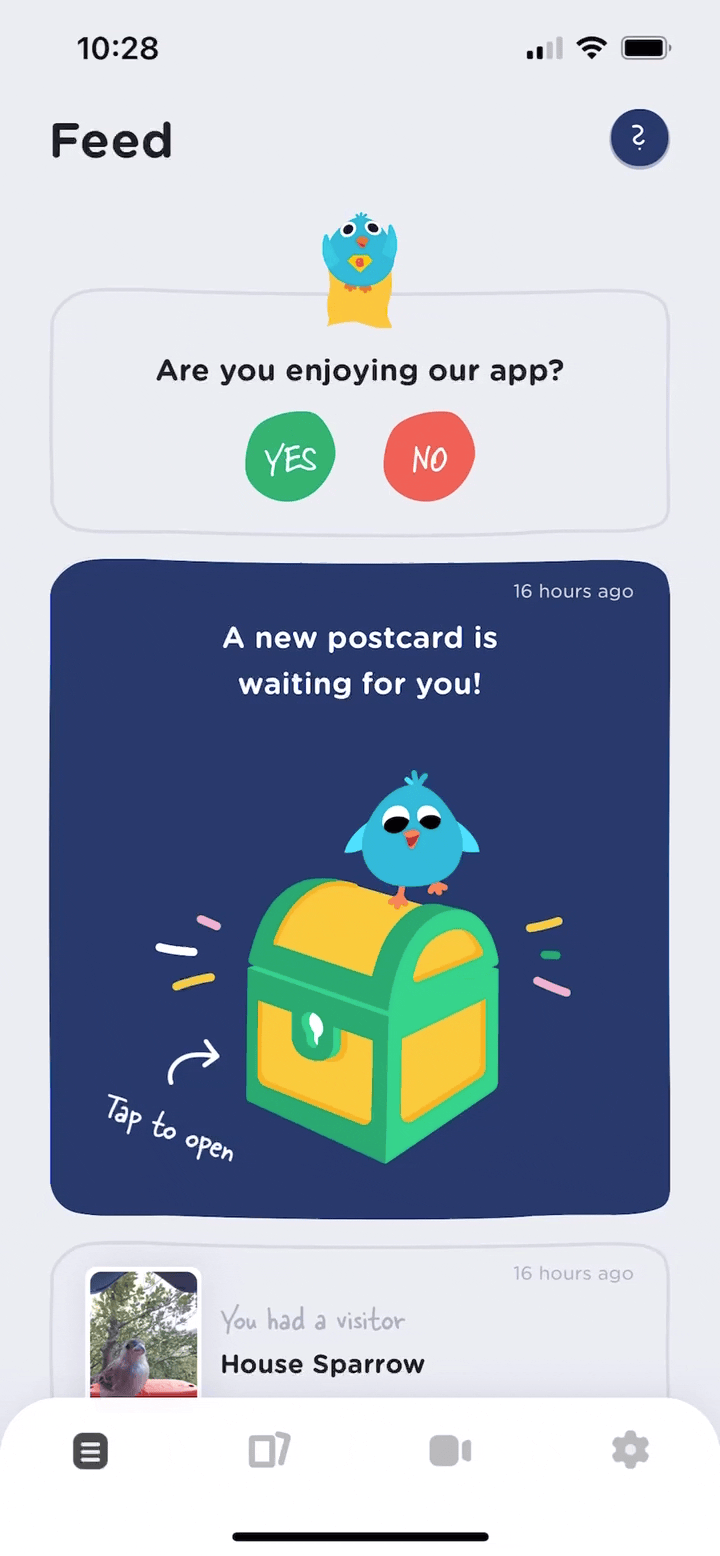 Using an invite code sent to you
If this is your first Bird Buddy feeder

If you've downloaded the Bird Buddy app, but don't have your own feeder to connect your account to, you can easily utilize an invite code, if one has been sent to you.


After creating an account, you have to tap on the "Begin adventure" button.
Tap on the "Have a friend with a Bird Buddy?" button.
Enter the code that somebody with Bird Buddy generated for you and click submit.

If you want to remove yourself from being a guest, click on the trashcan icon next to the host's feeder name that is listed in the Settings section of the app.
If you're already connected to another Bird Buddy feeder
If you'd like to connect an additional Bird Buddy to your account, you can do so through the main menu. You can connect an unlimited number of Bird Buddies to your account.
In your Settings menu, tap "Add Bird Buddy".

On the opened pairing screen, select the "Have a friend with Bird Buddy?" option.

Tap the "Enter your invitation code" option on the newly opened screen.

Enter the invite code that was shared with you and tap on "Submit code".

Wait until the invite sender confirms your request to be added. You will see a confirmation screen when this step has been completed.