OTA stands for "Over-The-Air," and an OTA update is a convenient wireless method of delivering firmware updates, new features, and bug fixes to devices such as smartphones, tablets, and other electronic devices.
Our firmware updates affect the way the camera module performs its core functions and should be distinguished from the Bird Buddy app updates, which concern the way the app handles the data received from the camera module and the way users can interact with it.

In an OTA update, our firmware updates are delivered directly to your camera module. This eliminates the need for you to manually download and install the update via a computer or other physical means.
Our developers can implement and improve many of Bird Buddy's features this way, such as battery-saving options (like deep sleep), motion detector improvements, improvements to the way the camera communicates with your internet access point, and much more. This is why it's important to always keep your firmware updated to the latest available version.

The app will prompt you when an update is easy. Newly received devices will already use firmware 1.3.1, and an update might not be necessary when pairing.
Please note:
While you can go through the update with the module placed in the feeder, we recommend doing it close to your internet access point, as this will make it less likely for the process to time out. Make sure the battery is at least 40% charged and that your camera is online before you initiate the update.


You can exit the firmware update screen by clicking the (X) button in the top right corner, and the update will continue to run in the background.



While you can move and use your phone, it's very important that you do not touch or move the camera during the update.


If your camera module is experiencing issues with the update, please see our

troubleshooting guide.
There are two ways to update the firmware (the very first update will be a part of the in-app pairing flow):

1. Update directly from Feed
Usually, new updates will be released to a small percentage of all devices and are then slowly rolled out to all devices. Once a new firmware update becomes available for your camera, you will receive this notification on your feed. Simply click the "Update feeder" button and follow the instructions on the screen.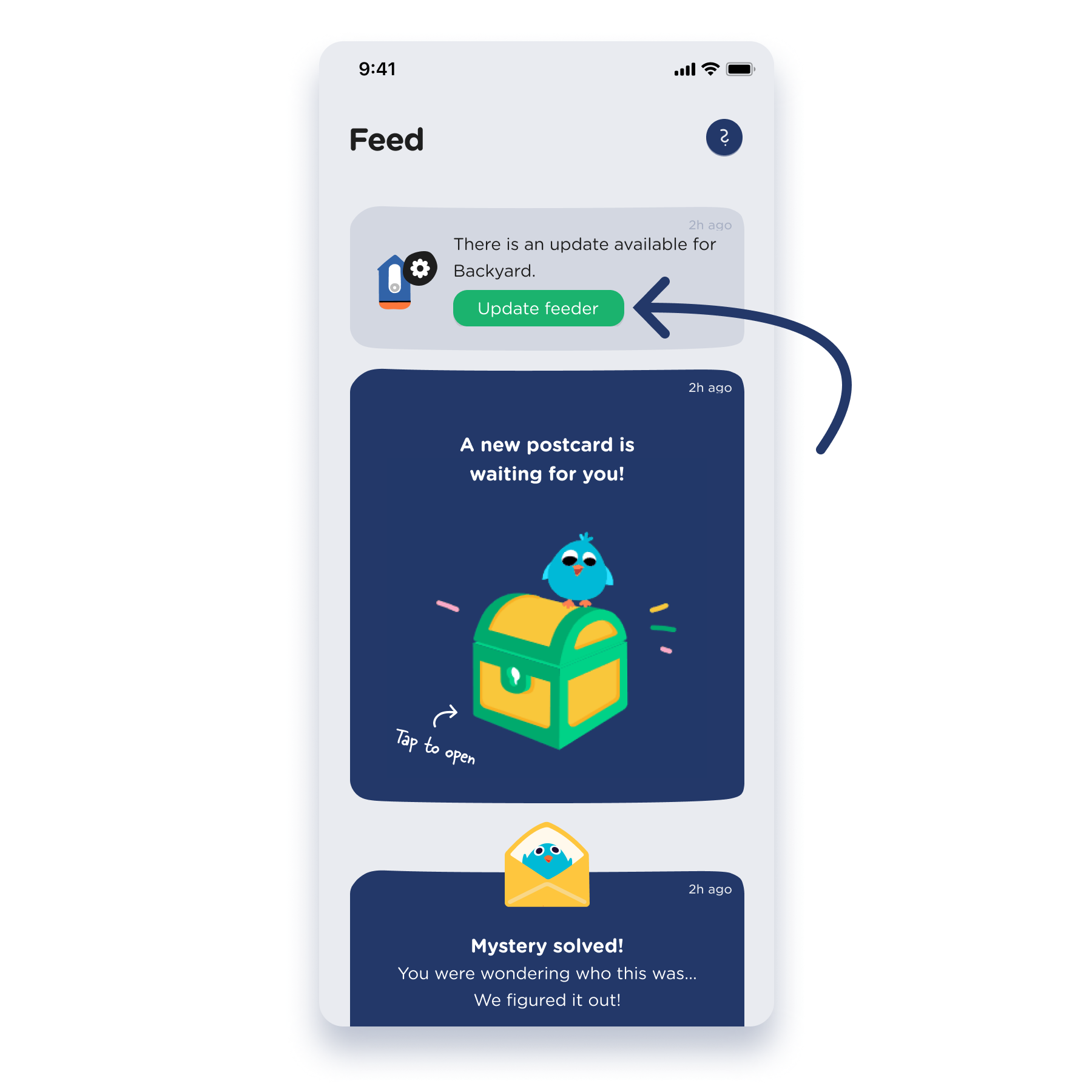 2. Update from Feeder settings
You can check your current firmware version and update it by navigating to Feeder settings as well.